British, Premium, Tier VI, Medium Tank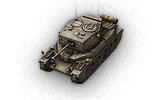 Pros:
Cons:

Price:1,750 Gold
Messrs Vulcan Matilda Black Prince
This vehicle features a 6-pounder fitted in the A27 turret. Only one prototype was produced, after which devlopement was discontinued due to complications with the turret mounting. The vehicle never entered service.
The concept behind the tank was as a decoy. It was to be used as either a demolition tank or a anti-tank gun locater.
Tier:V
Hit Points:610
Weight:30.04/31.95
Horsepower:190
Power To Weight Ratio:6.32
Speed Limit:22
Traverse Speed:35
Hull Armor:75/70/55
Turret Armor:76/63/57
Standard Shell Damage:56-94
Standard Shell Penatration:83-138
Rate Of Fire:26.09
Turret Traverse Speed:34
View Range:350
Signal Range:570
---Turrets---
Matilda Black Prince
Tier:V
Armor:76/63/57
Traverse Speed:34
View Range:350
Weight:5,000
Price:NA
---Guns compatible with this turret---
QF 6-pdr Mk. V A
Tier:V
Caliber:57
Ammo:55
Gun Elevation:Very Good
Gun Deprssion:Very Good
Shell Type:AP/APCR/HE
Shell Price:45 Silver/6 Gold/32 Silver
Shell Damage:56-94/56-94/75-125
Shell Penatration:83-138/135-225/23-38
Rate Of Fire:26.09
Average Damage:75/75/100
Average Penatration:110/180/30
Accuracy:0.41
Aiming Time:2.3
Weight:450
Price:NA
---Engines---
2x Leyland E165
Tier:III
Horsepower:190
Chance Of Fire:15%
Weight:331
Price:NA
---Suspentions---
Matilda Black Prince
Tier:V
Load Limit:31.95
Traverse Speed:35
Weight:7,200
Price:NA
---Radios---
WS No. 19 Special
Tier:IX
Signal Range:570
Weight:40
Price:NA
Commander
Gunner
Driver
Loader
Consumables
Edit
Manual Fire Extinguisher
Small First Aid Kit
Small Repair Kit
Automatic Fire Extinguisher
Large First Aid Kit
Large Repair Kit
Pudding and Tea
Equipment
Edit
Camouflage Net
Improved Ventilation Class 2
"Wet" Ammo Rack Class 1
Enhanced Horizontal Leaf Springs
Medium Spall Liner
Medium-Caliber Tank Gun Rammer
Binocular Telescope
Coated Optics
Enhanced Gun Laying Drive
Toolbox
Camouflage
Edit
Price:
Permanent:125 Gold
30 Days:50,000 Silver
7 Days:12,500 Silver