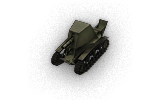 Russian, Tier II, Artillery
Pros:
Good elevation arc
Has the same hull as the MS-1 so some modules will already be unlocked.
Cons:
Slow
Low Horsepower
Poor Maneuverability

Research Price:170
Price:3,550 Silver
Leads To:
Self-propeled gun on the basis of the MS chassis. This model existed only in blueprints, with no prototypes developed.
Tier:II
Hit Points:70
Hit Points Top:70
Weight:5.4/6.0
Weight Top:6.08/8.5
Horsepower:43
Horsepower Top:70
Power To Weight Ratio:7.96
Power To Weight Ratio Top:11.51
Speed Limit:22
Traverse Speed:20
Taverse Speed Top:22
Hull Armor:16/16/16
Standard Shell Damage:123-205
Standard Shell Damage Top:123-205
Standard Shell Penatration:32-53
Standard Shell Penatration Top:32-53
Rate Of Fire:7.5
Rate Of Fire Top:7.5
Gun Traverse Speed:18
View Range:260
View Range Top:260
Signal Range:265
Signal Range Top:350
---Guns---
76mm Regimental Gun mod.1927 
Tier:II
Caliber:76
Ammo:24
Shell Type:HE/HEAT
Shell Price:38 Silver/7 Gold
Shell Damage:123-205/83-138
Shell Penatration:32-53/56-94
Shell Burst Radius:1.09/0
Rate Of Fire:7.5
Average Damage:164/110
Average Penatration:42/75
Accuracy:0.76
Aiming Time:4.5
Weight:230
Research Price:0
Price:2,830 Silver
---Engines---
MS-1
Tier:I
Horsepower:43
Chance Of Fire:20%
Weight:266
Research Price:0
Price:0 Silver
GAZ-M1
Tier:I
Horsepower:55
Chance Of Fire:20%
Weight:215
Research Price:35
Price:310 Silver
AMO-3
Tier:I
Horsepower:70
Chance Of Fire:20%
Weight:920
Research Price:40
Price:340 Silver
---Suspentions---
SU-18
Tier:I
Load Limit:6.0
Traverse Speed:20
Weight:1,200
Research Price:0
Price:0 Silver
SU-18 Bis
Tier:II
Load Limit:8.5
Traverse Speed:22
Weight:1,200
Research Price:90
Price:540 Silver
---Radios---
71-TK-1
Tier:II
Signal Range:265
Weight:50
Research Price:0
Price:180 Silver
71-TK-3
Tier:III
Signal Range:300
Weight:100
Research Price:95
Price:570 Silver
9RK
Tier:V
Signal Range:350
Weight:80
Research Price:540
Price:3,240 Silver
Consumables
Edit
Manual Fire Extinguisher
Removed Speed Governor
Small First Aid Kit
Small Repair Kit
Lend-Lease Oil
Automatic Fire Extinguisher
Large First Aid Kit
Large Repair Kit
Extra Combat Rations
Equipment
Edit
Improved Ventilatio Class 1
Light Spall Liner
Camouflage Net
"Wet" Ammo Rack Class 1
Medium-Caliber Artillery Shell Rammer
Binocular Telescope
Coated Optics
Cyclone Filter
Enhanced Gun Laying Drive
Toolbox
Camouflage
Edit
Price:
Permanent:50 Gold
30 Days:20,000 Silver
7 Days:5,000 Silver