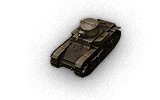 American, Premium, Tier II, Light Tank
Pros:
Only premium autoloader
Fast and moblie
Cons:
Bad accuracy
Poor damage output
Thin armor
Poor view range
Price:Free
The T1E6 was a new years gift tank.
James Cunningham, Son and Co. T1E6
Experimental vehicles T1E4 through T1E6 were heavily influenced by the British Vickers E. The first prototype was manufactured by the Cunningham corporation in 1931. After trials in 1932, an upgraded varient was built. However, a different experimental tank, the T2, was preferred.
Tier:II
Hit Points:160
Weight:9.03/11.10
Horsepower:244
Power To Weight Ratio:27.03
Speed Limit:48.3
Traverse Speed:42
Hull Armor:15/6/6
Turret Armor:12/6/6
Standard Shell Damage:23-38
Standard Shell Penatration:25-41
Rate Of Fire:42.86
Turrret Traverse Speed:38
View Range:260
Signal Range:325
---Turrets---
"T1"
Tier:1
Armor:12/6/6
Traverse Speed:38
Veiw Range:260
Weight:700
---Guns compatible with this turret---
'"'37mm Semiautomatic Gun M1924A1"
Tier:1
Caliber:37
Ammo:80
Gun Elevation:Bad
Gun Depression:Bad
Brusts In A Clip:5
Shells In A Burst:1
Shell Type:AP/APCR/HE
Shell Price:0 Silver/2 Gold/8 Silver
Shell Damage:23-38/23-38/27-45
Shell Penatration:25-41/40-66/14-24
Rate Of Fire:42.86
Average Damage:30/30/36
Average Penatration:33/53/19
Accuracy:0.51
Aiming Time:1.9
Weight:65
---Engines---
"American LaFrance 312A V-12"
Tier:4
Horsepower:244
Chance Of Fire:20%
Weight:800
---Suspentions---
"Vickers E"
Tier:1
Load Limit:11.10
Traverse Speed:42
Weight:2000
---Radios---
"SCR 193"
Tier:2
Signal Range:325
Weight:80
Consumables
Edit
Manual Fire Extinguisher
Small First Aid Kit
Small Repair Kit
100-Octaine Gasoline
Automatic Fire Extinguisher
Large First Aid Kit
Large Repair Kit
105-Octane Gasoline
Case Of Cola
Equipment
Edit
Improved Ventilation Class 1
Light Spall Liner
Camoflage Net
Binocular Telescope
Coated Optics
Enhanced Gun Laying Drive
Toolbox
Camouflage
Edit
Price:
Permanent:50 Gold
30 Days:20,000 Silver
7 Days:5,000 Silver