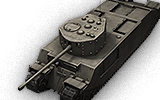 British, Premium, Tier VI, Heavy Tank
Pros:
Excellent DPM
Great rate of fire
Great penatration
Incredible HP
Perfered match aking
Resistent to ramming
Cons:
Second largest tank in the game
Second slowest tank in the game
Poor armor
Hardly any angling

Price:3,500 Gold
A beloved tank by even people who don't own one; its a very comical tank with many nicknames, like "the submarine",and "The white whale". It is customary among TOG drivers to name their tank in a style after a Royal Navy battleship.
William Foster & Co. TOG II* Developed for trench warfare. Initially, armament was to be placed in the front part of the hull and side sponsons (the TOG I). However, later it was decided not to add sponsons but mount a turret. By 1943, when the TOG II* was completed and ready for trials, it was already obsolete; and never saw service.
Tier:VI
Hit Points:1,400
Weight:81.28/85.00
Horsepower:600
Power To Weight Ratio:7.38
Speed Limit:14
Traverse Speed:20
Hull Armor:76/76/50
Turret Armor:114/76/53
Standard Shell Damage:113-188
Standard Shell Penatration128-214
Rate Of Fire:12.00
Turret Traverse Speed:32
View Range:360
Signal Range:570
---Turrets---
TOG II*
Tier:VI
Armor:114/76/53
Traverse Speed:32
View Range:360
Weight:8,000
---Guns compatible with this turret---
OQF 17-pdr Mk.VII
Tier:VII
Caliber:76
Ammo:144
Gun Elevation:Extreamly Good
Gun Depression:Very Good
Shell Type:AP/APCR/HE
Shell Price:175 Silver/8 Gold/75 Silver
Shell Damage:113-188/113-188/143-238
Shell Penatration:128-214/179-299/29-48
Rate Of Fire:12.00
Average Damage:171/239/38
Average Penatration:150/150/190
Accuracy:0.36
Aiming Time:2.3
Weight:826
---Engine---
Paxman 12TP
Tier:V
Horsepower:600
Chance Of Fire:15%
Weight:3,000
---Suspention---
TOG II*
Tier:VI
Load Limit:85.00
Traverse Speed:20
Weight:20.000
---Radio---
WS No.19 Special
Tier:IX
Signal Range:570
Weight:40
Commander
Gunner
Driver
Radio Operator
Loader
Loader
Consumables
Edit
Manual Fire Extinguisher
Small First Aid Kit
Small Repair Kit
Automatic Fire Extinguisher
Large First Aid Kit
Large Repair Kit
Pudding and Tea
Equipment
Edit
Camoflage Net
"Wet" Ammo Rack Class 1
Medium-Caliber Tank Gun Rammer
Binocular Telescope
Coated Optics
Enhanced Gun Laying Drive
Enhanced Vertical Coil Springs Class 3
Fill Tanks With CO2
Large Spall Liner
Toolbox
Improved Ventilation Class 3
Camouflage
Edit
Price:
Permanent:150 Gold
30 Days:60,000 Silver
7 Days:15,000 Silver